The Déesse Dao staff is proud to announce one more TIER 1 partnership with a pillar of gaming finance such as GameFi.org. The consolidation of this union in the gaming sector aims to bring innovation, wealth, equity and sharing in the web3 Gaming Finance ("Gamefi"). Here is the direct page dedicated to Déesse on GameFi.org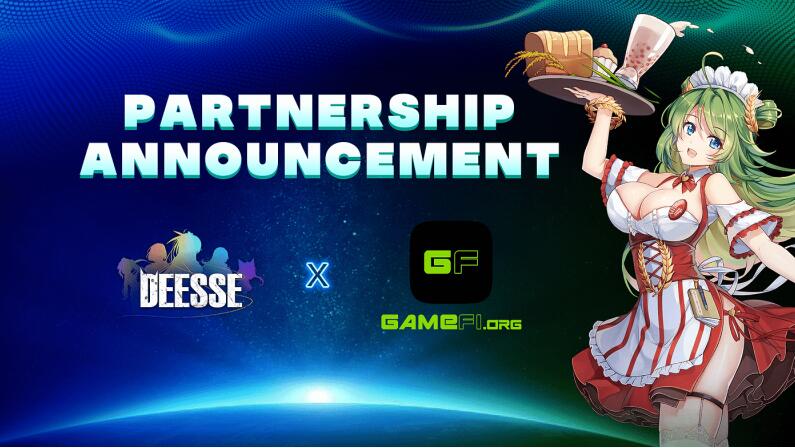 This collaboration creates cross-benefits for both parties: on the one hand, Deesse can take advantage of a good return on visibility and let its players, investors and followers, to test, evaluate and rate the product (deesse.art game). On the other hand GameFi.org goes to expand its catchment area, widening its metaverse of innovative games in the world of WEB3.
Both organisations work every day to expand awareness of a "New ERA", which has already begun, and which sees the blockchain and therefore web3 as an important new world, to explore for all gaming players in the traditional web2, or even more, the traditional world of console and table gaming.
Web3 players are aware that thanks to NFTs and the #PlayToEarn philosophy, today it is possible to start earning small or large sums (tokens or FIAT) by playing for a few hours a day. This philosophy could evolve into something much greater in the years to come. We're talking about the long-awaited concept of #FinancialFreedom via #MassAdoption, meaning that moment when supply and demand can cross in perfect balance, allowing web3 gaming interlocutors to earn enough to live independently.
From this newly shared concept, further innovative concepts of wealth sharing expand. For example the possibility of renting and then borrowing the NFTs themselves from other players/investors who have a large number of them and don't have time to use them (for example). In this way, those who have no economic possibilities will be able to borrow the "game tools", earn thanks to the concept of #PlayToEarn and then share this income with the owner of the NFTs, or just by paying a share of the rent on these NFTs .
It all seems so far away and impossible, yet it's already here, one step away from all of us! So start exploring GameFi 2.0 now, with Deesse NFTart japanese anime PlayToEarn and GameFi.org! Much love to you
Andrea Falcinelli | CMO of Déesse DAO