On-chain data shows Bitcoin is about to end 2022 with a peak supply in loss of 55%. Here's how this value compares with previous bottoms.
Around 55% Of Total Bitcoin Supply Has Been Underwater Recently
As per CryptoQuant's year-end dashboard release, this metric reached a value of 60% during previous bottoms. The "supply in loss" is an indicator that measures the percentage of the total circulating Bitcoin supply that's currently carrying some loss.
The metric works by looking at the on-chain history of each coin in circulation to see what price it was last moved at. If this previous value for any coin was greater than the latest BTC price, then that particular coin is carrying some loss at the moment, and the indicator accounts for it.
The counterpart indicator is the "supply in profit," and its value can simply be derived from the supply in loss by subtracting it from 100. Now, here is a chart that shows the trend in the Bitcoin supply in loss during the last five years:
The value of the metric seems to have been going up in recent months | Source: CryptoQuant
As the above graph displays, the Bitcoin supply in loss has increased in value as the bear market has become longer. This trend naturally makes sense as with each drawdown during a bear, more investors enter into the loss territory as a large amount of them would have acquired their coins during the higher, bull market prices.
In the current BTC cycle so far, the market has seen a peak supply in loss of around 55%, corresponding to a majority of the coins in circulation being underwater. From the chart, it's apparent that the indicator also saw an uptrend as the 2018-2019 bear market marched on, and it peaked above a value of 60% as the price of BTC also attained its bottom.
In the COVID black-swan crash of 2020 as well, the supply in loss reached pretty high values and touched the same 60% mark. Clearly, despite all the sharp plunges in the price (notably, the LUNA collapse, the 3AC bankruptcy, and the latest FTX crash), the indicator is ending the year 2022 without having reached any such heights.
If the current cycle follows the same pattern and forms a bottom around the 60% mark, then there is still a while to go for the metric. And the only way even more supply would enter into a state of loss is through more drawdowns in the price, which means 2023 would have more pain in store for Bitcoin investors.
BTC Price
At the time of writing, Bitcoin's price floats around $16,600, down 1% in the last week.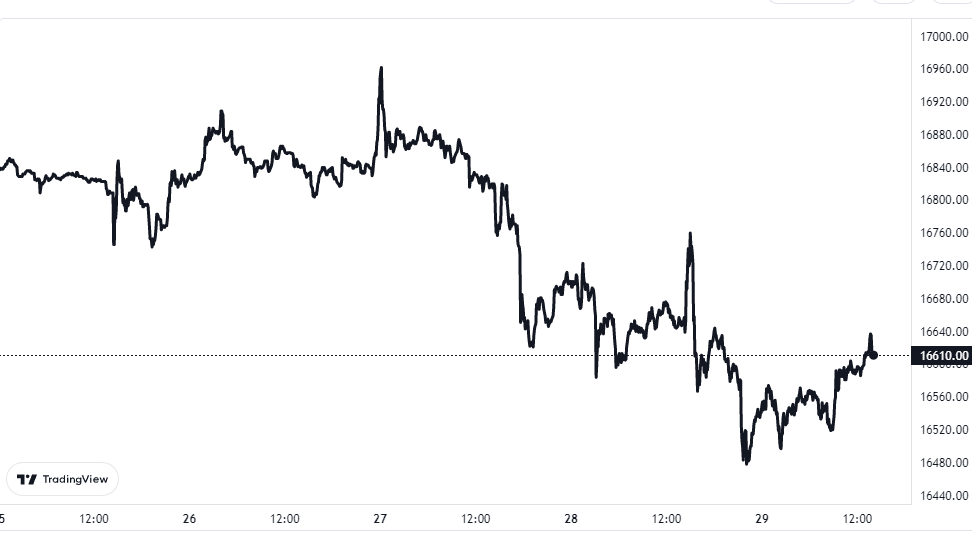 Looks like BTC has tumbled down over the last two days | Source: BTCUSD on TradingView
Featured image from Kanchanara on Unsplash.com, charts from TradingView.com, CryptoQuant.com